Hi All!
Well it has been a long time since I have actually posted a Festive Friday on a Friday! LOL!
It was by pure accident too I can assure you - I was cleaning my craft desk off so I could do a bit of sewing when I stumbled across an old Stamp It catalogue from back in the days when Crafty Kids sold them and also a piece of interesting striped paper.
So I used them to make......
Since the start of the Shopping Our Stash Challenge Blog - I haven't looked at my supplies quite the same - even other household stuff has been heavily critiscised on how I could use them in my card making! Watch out patty pans - I have an idea brewing in this head of mine! LOL!
Anyway, so that is another 2 Christmas cards towards
Shirley-Anne's
50 Christmas Cards by the 1st Dec Challenge, bringing my total to........ 48!
Cheers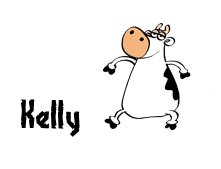 PS - Isn't this cow sooo cute! My pal
Annmaree
got him for me!